Bukhara
Bukhara - The Holy City
You will need at least two days to do Bukhara main architectural sights. Bukhara is a holy city of Muslim world. A great many mosques, shrines, madrasahs, with the latest one among them dating back to the XIX century, preserved there. All the excursions start from Lyabi-Khaus pond, which decorates the entry to the Nadir Divan-begi madrasah of the XVII century.
The Bukhara symbol is the 47-m high Kalyan minaret, built under the Karakhanids in the XII century. At that time it was the highest minaret in Central Asia, which as a light house, showed the way to Bukhara to trade caravans and pilgrims. You must visit the Ark fortress – a citadel which was a residence of local rulers for several centuries. The Samanid Mausoleum – Bukhara oldest monument erected early in the century, features elaborated beauty of décor and orderliness of proportions. Not far from it there is another Bukhara sight - Chashma-Ayub with a holy spring, which according to a legend was formed by strike of Saint Job's staff.
Bukhara historical center includes altogether 140medieval structures, which managed to preserve their look unchanged for centuries. There, you will find yourselves in the world of the medieval East with narrow paved side streets and magnificent structures, decorated with intricate ornament, majolica, Arab ligature and blue domes. Bukhara four trade domes are extant almost intact, where even now Bukharian residents offer gold embroidery products, karakul, carved furniture, silk and spices.
Popular monuments and sights of Bukhara
Kalyan minaret
Minaret was designated to summon Muslims to prayer five times a day. Normally, each mosque had its own minaret, but the main minaret was situated near the Djuma Mosque. It was from the gallery, at the top of the minaret, that the muedzin summoned the believers to prayer at the top of his voice.
Khoja-Gaukushon
It is one of the largest ensembles of the city and includes mosque, minaret and madrasah. In past Gaukushon was the large trade square of Bukhara. It got its name due to the slaughter-house, which once existed on this site, because "Gaukushon" is translated as "killing of bulls".
Lyabi-Hauz
Lyabi-Hauz rectangular (36 – 46 meters height), stretched from the east to the west, is buried in shadow of venerable chinaras. Its shores are formed with stair launch to the water, made from massive blocks of yellow limestone. In old times there was «tea bazar», there sold sweets, dainties, bread and made food.
Nadir Divan-begi madrasah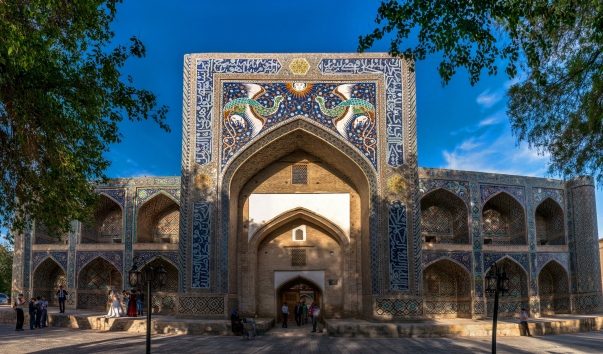 This madrasah is a part of the architectural complex located round well-known Lyabi-Hauz in Bukhara. The madrasah building, as well as khanaka nearby, were named after vizier Nadir by whose order they were constructed. Vizier Nadir served at a court yard of one the strongest and powerful representatives of Ashtarkhanid dynasty Imamkuli-khan, who ruled in Bukhara in 1611-1642.
Samanids mausoleum
The mausoleum was erected as a family crypt immediately after the death of Ismail Samani's father. Later, Ismail himself and his grandson Hasr were also buried in it. It is interesting to note that erecting crypts was against Islamic law at that time, for Islam forbade erecting any post-mortem monuments upon the tombs of Muslim believers.
Chashma-Ayub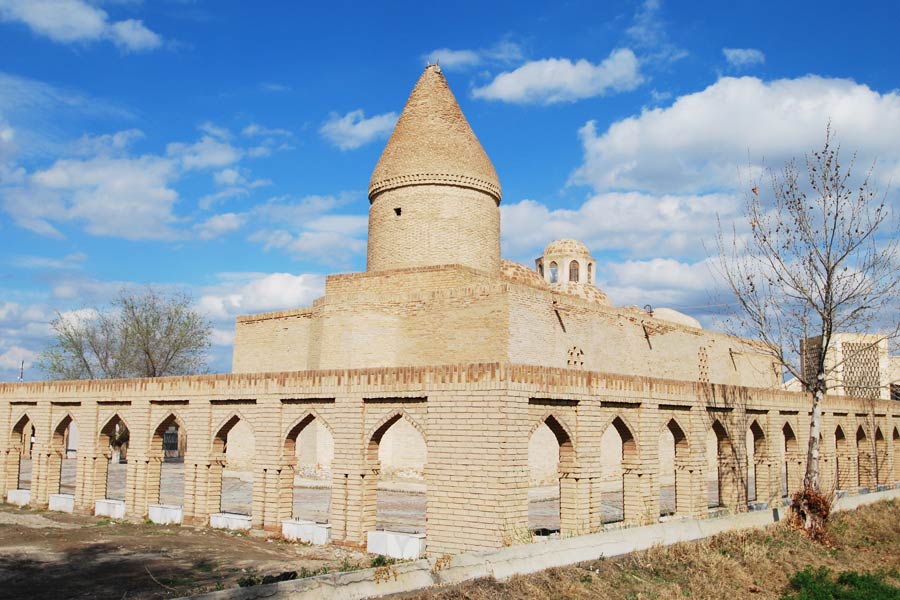 Well means Saint Job's Source. A legend has it that the Bible prophet Job, having visited this land, decided to help the people who suffered from water shortage in the desert. He struck the ground with his stick, making a source of crystal clear water sprang at that place.
Abdullaziz-khan madrasah
The madrasah was built it in 1651 – 1652 and it is the last large madrasah in Bukhara. The building is typical by composition, with four-ayvans yard, but with unordinary divergent fan of hudj groups after side ayvans and cupola buildings on the central axis.
Miri-Arab madrasah
It is one of the best Bukhara sights of 16 century. Architecture and décor of Miri-Arab distinguish by highest culture and taste. At present in this monument, which underwent catastrophical destruction, portal and whole northern wing of main fasadewere restored up, cupola and yard-arcades construction were strengthen.
Magoki-Attori mosque
This mosque in the city's centre is an example of an urban mosque in a residential quarter. The mosque was built on the site of the pre-lslamic Moh temple mentioned above. Excavations have revealed the fact that even under the Samanids there was a six-pier mosque, which apparently was also domed.
Trading domes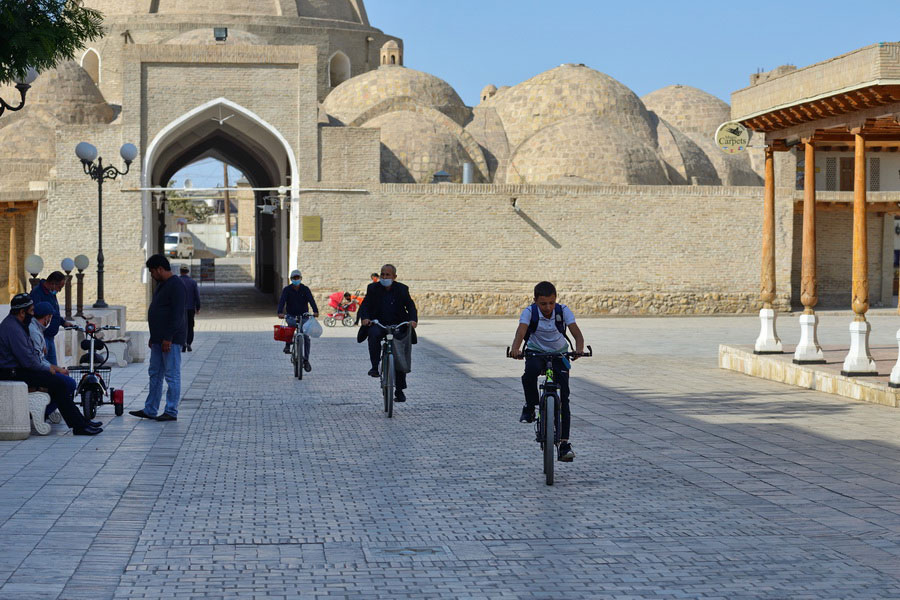 They are stretching in procession from Lyabi-Khauz to the Miri-Arab madrasah. Long ago, in the XVI century under the Shaybanides dynasty, Bukhara became the capital giving rise to unprecedented growth of the city, and since it was located on the Great Silk Road, the markets and trading stores even more congested cross-roads of public roads.
Ark Citadel
It is a residence of Bukhara khans. According to the last excavations, it was determined the citadel was on this place from 4 century BC. For many years of building and destruction, 20 meters height artificial hill was formed; its upper layers were built over in the time of last Bukhara emirs.